This is an inspired recipe from creative consultant and recipe writer Julia Scannel, a friend of mine. She traveled in Mexico to help write a veritably unknown little book called Cooking With the Chiles & Spices of Mexico published by Culinary Alchemy, a self-published gem of a book I was lucky to get as a gift from her.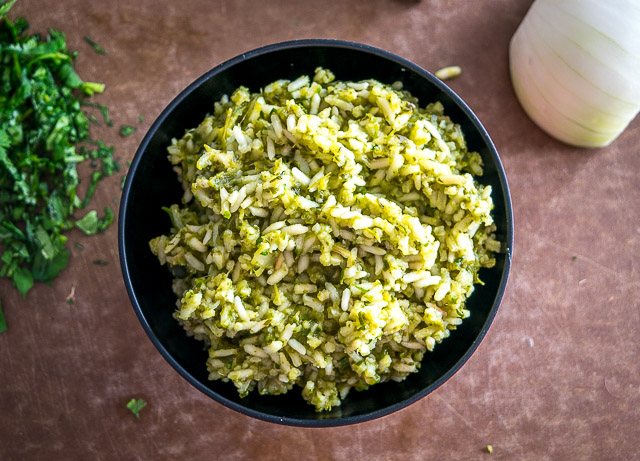 This green rice is to be served alongside enchiladas and chile rellenos.  Cilantro, known as fresh coriander greens, is an herb that is a characteristic taste associated with Mexican cuisine and just freshens up this rice so beautifully. Don't consider reducing the amount called for here; it is perfect as designed. This will become a weekly favorite.
Overview
Machine: Medium (6 cup) ceramic rice cooker
Yield: Serves 3
Ingredients
1 cup long-grain white rice
1 1/2 cups water
1/2 teaspoon salt
1/2 cup minced fresh cilantro
1 tablespoon butter
1/2 small white onion, chopped (about 3 to 4 tablespoons)
Instructions
Combine the rice, water, salt, and cilantro in the rice bowl. In a medium sauté pan, heat the butter until melted, add the onion and sauté until the onion is translucent and softened. Add the onion to the rice bowl. Stir just to combine, then cover and program for the regular cooking cycle. Let the rice rest 15 minutes on the Keep Warm cycle. Serve hot.